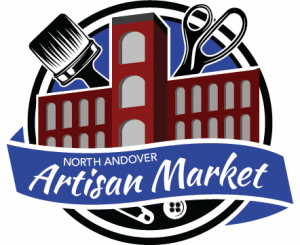 Sadly our markets this year were canceled because of the pandemic. You can now shop from our virtual marketplace from 9/16-9/30 and pick up your products at The West Mill in North Andover on 104. The link to shop is https://farmstanding.com/shop/the-artisan-market-at-the-mills/.
The Artisan Market at the Mills began in the summer of 2018 and is a collaboration of the North Andover Merchants Association and the East and West Mills. The markets are handmade only events with artisans from all over New England. We also offer live music, children's activities and food trucks.
​The spring market will be held on opening day of the North Andover Farmers Market, Sunday, June 14th, 2020 from 10:00 AM-3:00 PM. The fall market will take place on the last day of the farmers market, Sunday, October 4th, 2020 from 10:00 AM-3:00 PM.
The markets will take place in the lots behind the West Mill on High St., just a short walk from First and Main where the Farmers Market is held. The space abuts Sutton Pond, creating a serene and picturesque backdrop for the market. A free hayride offers patrons rides back and forth between the two markets throughout the day.
If you are interested in applying to be an artisan, use the link below to find out more.
2020 Artisan Market at the Mills application