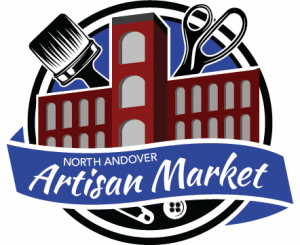 Returning October 17th
The 2021 season is here! We are hopeful that the vaccine will help to bring us back to some sort of normalcy in the next few months. We have made the decision to cancel our spring market and focus our efforts on a larger, outdoor fall market. The date of the market will be Sunday, October 17th from 10:00 AM to 3:00 PM. The rain date will be October 24th.
The Artisan Market at the Mills began in the summer of 2018 and is a collaboration of the North Andover Merchants Association and the Davis and Furber Mills. The markets are handmade only events with artisans from all over New England. We also offer live music, children's activities and food trucks.
The market will take place in the lots behind the West Mill on High St., just a short walk from First and Main where the Farmers Market is held. The space abuts Sutton Pond, creating a serene and picturesque backdrop for the market. A free hayride offers patrons rides back and forth between the two markets throughout the day.
If you are interested in applying to be an artisan, use the link below to find out more.
2021 Artisan Market at the Mills application
The Artisan Market is proudly sponsored by Enterprise Bank.